Day 2 :
Keynote Forum
Director of Laboratory Medicine Research at Children's Mercy Hospitals and Clinics
USA
Time : 09:30-10:00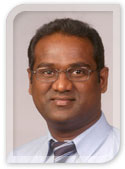 Biography:
Rangaraj Selvarangan is the Director of Microbiology and Virology Laboratory and Director of Laboratory Medicine Research at Children's Mercy Hospitals and Clinics. He is an Associate Professor of Pediatrics, Department of Pathology and Laboratory Medicine at University of Missouri-Kansas City School of Medicine. Dr. Selvarangan received a Bachelor of Veterinary Science degree from Madras Veterinary College, Tamil Nadu Veterinary and Animal Sciences University, India. He then earned a doctoral degree in Medical Microbiology and Immunology at University of Texas Medical Branch at Galveston, Texas, USA. He completed a postdoctoral fellowship in medical and public health laboratory microbiology at University of Washington, Seattle. He is an American College of Microbiology certified Diplomat in American Board of Medical Microbiology. In addition to his clinical duties, he is actively involved in teaching and research. His research interests include rapid molecular diagnostics to detect infections and its impact on patient care and outcomes. He also leads an active research program in epidemiology of infectious diseases in children.
Abstract:
The goal of the clinical laboratory is to provide rapid and accurate test result for influenza to assist the clinician in patient management. This lecture will provide an overview of several clinical laboratory tests currently available for detection of influenza from respiratory specimens. The strengths and weaknesses of these clinical tests will be discussed. Rapid antigen tests for influenza continue to be used widely in outpatient testing despite inadequate sensitivities. It is important to recognize several of the pre-analytical, analytical and post analytical factors that adversely impact the performance of these tests. Newer molecular based detection methods capable of producing rapid and accurate test results for influenza have been approved for clinical testing. The implementation of these tests in routine testing for influenza requires careful consideration to reduce cost and improve potential impact on patient care
Keynote Forum
University of Georgia
USA
Time : 10:00-10:30

Biography:
Ming Zhang received her Ph.D. (Summa Cum Laude) from University of Gottingen, Germany. She has over a decade experience in infectious diseases, in particular in HIV molecular epidemiology and molecular evolution. She is an Assistant Professor of Epidemiology at University of Georgia, USA, and affiliated with Faculty of Infectious Diseases, Institute of Bioinformatics, and Biomedical and Health Sciences Institute at University of Georgia. She leads an interdisciplinary research group towards understanding pathogen diversity under various epidemiology settings. She enjoys teaching and educating next generation of critical thinkers and innovators in epidemiology.
Abstract:
Keynote Presentation